The Dust Devil
Introducing the Dust Devil - a two channel amp that is the evolution of the Winfield Cyclone. The Dust Devil adds a second channel, voiced with a little more American flair to add versatility. Channel one is a 12AX7 preamp with Volume, Treble and Bass controls, sounding like the 60's black face clean channel on those lower powered versions that we have become so attached to.

Channel 2 is the Cyclone channel with an EF86 preamp, Volume and Tone controls. The Cyclone amp section still remains as one of the most expressive and dynamic of all the EL 84 low powered amps we have ever played through. Based on the 15 watt "English" amp of the 1960's, you will get that big fat tone that you have always dreamed of without any overdrive pedals. The amp has that beautiful percussive tone when you play with a light touch and will get as big as you want the harder your attack is. It almost becomes horn like.

The Master and Cut Control are Post Phase inverter and affect both channels The power amp consists of a 12AX7 Phase inverter, a pair of El84's and a 5AR4 rectifier tube, putting out a loud 15 Watts. The Dust Devil combines the chime of the British sounding Channel with the American tone of the other channel Using an A-B-Y box you can chose channel one, channel two, or both. Having these two amazing sounding channels to switch between is simply a dream come true. It is loud enough for club use and a great recording amp as well. Definitely worth a listen.


Winfield Dust Devil Combo Features:
EF86 Preamp
12AX7 Preamp
Two EL84's
5AR4 Rectifier
12AX7 in Power Section
15 Watts
Volume Controls for Each Channel
Treble and Bass Controls for Channel 1
Tone Control for Channel 2
Master Volume and Tone Cut Control
1x12" Celestion Alnico Speaker
Dimensions: 20" x 17. 25" x 10.5"
Weight: 34 lbs.
Premier Guitar Magazine ~ Gear of the Year 2017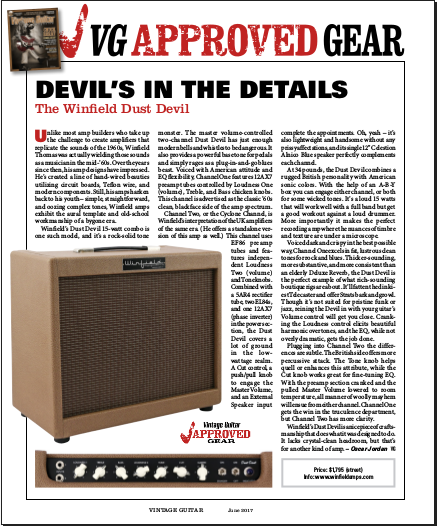 Policy Change effective 5/21/2018 - If you decide the amp is not for you after a seven day trial period, I will accept a return, but there will be a 20% restocking fee and you will be responsible for shipping both ways. Any damage will be deducted from the refund. Speaker cabinets are not subject to trial periods. They are considered a final sale.
Please note: If you touch the amp with a soldering iron or make any slight change to it without my okay, your warranty is voided.